Discover more from Caribbean Cricket News
The media outlet for all cricket news and analysis from the Caribbean.
When will Kamau Leverock get his due?
Is it time for Cricket West Indies to bring back ICC Americas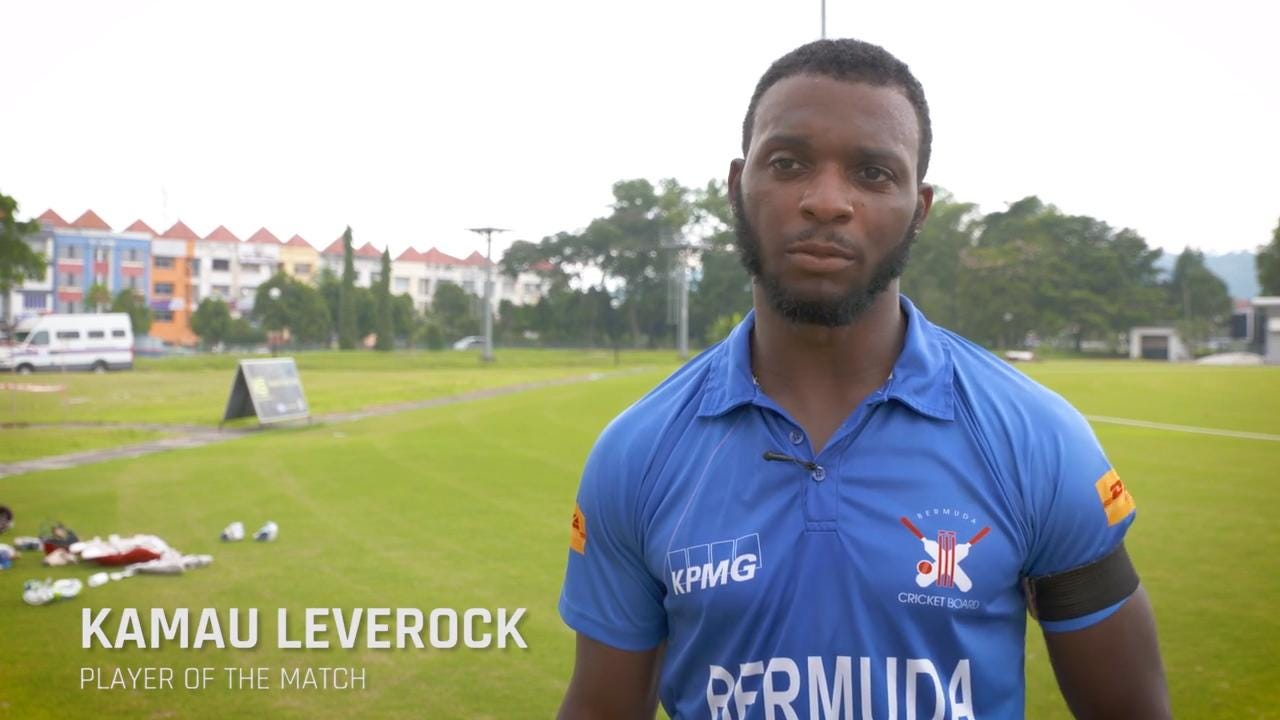 Bermuda may not be a part of the Caribbean but as one of the 17 nations in ICC Americas, Karthikeya Manchala argues that maybe Cricket West Indies could be doing more for cricketers in the region..
In 2016, Cricket West Indies announced its intention to grow the game in the American region. The West Indies are the only Full member team out of 17 nations in the ICC Americas category, and despite being an impoverished region themselves, possess relatively superior resources compared to the other countries. 
In the 2016 Regional Super 50 competition, for the first time, the West Indies introduced an ICC Americas team which was supposed to be an amalgamation of players from the United States, Canada and Bermuda.
In the 2017 edition, Kamau Leverock, an impetuous allrounder from Bermuda got his chance in the side on the back of an excellent showing in a Division 3 competition in Los Angeles. Leverock, like most other players in that squad, was there for one reason alone. The idea was to hack one of the six coveted spots for ICC Americas players in the Caribbean Premier League draft. 
In that tournament, Leverock was the leading run scorer for the ICC Americas and the only player to have retained the opening spot in all the games. In addition he was the only player, alongside Nitish Kumar, to make two 50+ scores in the competition including a swashbuckling 75 against eventual runners up Jamaica. And yet, despite his impressive performance, Leverock had no takers in the CPL draft that year.
In the 2018 edition, the ICC Americas team was disbanded and replaced by a USA team. Some say this was an attempt by CWI to penetrate the US market in an attempt to create a multi-million dollar platform to boost their revenues. Thus one must ask despite their PR efforts, did CWI really care about developing players in the region? Leverock and some Canadian players had to make big career choices to play the tournament, but in the space of two years their hopes were quickly shattered.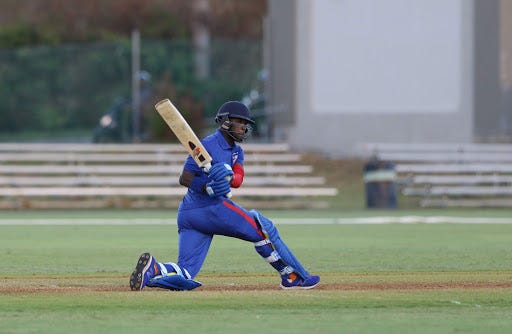 There was further evidence of this in the Global T20 tournament in Canada in 2018. The West Indies sent a B-team and hugely benefited from the tournament, it proved a springboard for players like Brandon King, Sherfane Rutherford, Fabian Allen and Khary Pierre - all of whom have gone on to represent the West Indies. However for Leverock, despite impressing Chris Gayle and Andre Russell at Vancouver Knights he couldn't level up.
When the system is not made for them, it is incredibly difficult to convince players from Bermuda to take up cricket professionally when they have to juggle day to day life at the same time. This is evidence as to how the game is shrinking, not growing.
Leverock has had the opportunity to play in different parts of the world during off seasons, but there are still a host of obstacles.
To watch clips of Leverock's batting in the 2019 T20 World Cup Qualifiers one can only wonder how the region has failed thus far to harness his ability.
Leverock has tried his hand at breaking through the English county system as players from Bermuda automatically qualify for England. However he feels the inherent racism and discrimination in the county system in England has been a stumbling block.
George Dobell's interviews for Cricket Monthly explored how black players have struggled to get sustained opportunities in England. Listening to Leverock speak it seems the stories apply to him also.
Recalling instances from a few seasons back, Leverock is under no illusions that he had face insurmountable blocks.
"There are times where people have come in on trials and got more of a chance than me and I've been waiting there the full summer". He said.
"I remember doing fairly well batting at 5 for Nottinghamshire 2nd XI in the 50-over competition and someone came in and got a chance immediately, pushing me to bat at number 9 and 10".
Yet anyone who has watched him play will recognize this is preposterous.
Leverock continues, "No one would stand up to such blatant discrimination either; in the dog eat dog world of 2nd XI cricket it is every man for themselves in the quest for being noticed".
Such instances are a wake up call to administrators in the cricket world. Racial discrimination is a deep rooted issue in the system and stories like these do not offer hope for other black cricketers.
Leverock has considered moving to Barbados because his father hails from the island, but feels it is too late to re-establish himself at this juncture.
It isn't all dark though. When Leverock toured Australia in the 2018-19 season, he was given an opportunity to train with the South Australian Redbacks and Adelaide Strikers. He knew he could only train and not play for them, but he highly appreciated David Moore extending that courtesy knowing he had played some T20s for the West Torrens Cricket Club. 
Leverock is pleading with the ICC Americas to build a pathway for talented cricketers like himself hailing from Bermuda and other countries like Bahamas, Cayman Islands and Suriname. The region would do well to pay heed to his call. 
Delray Rawlins, who was lucky enough to get a chance to develop his game at Sussex CCC, is now making headlines around the world. He is the perfect example of how talent, when nurtured correctly, can grow exponentially. 
The ICC Americas must make efforts to send coaches, fix local administrations and enable Leverock and others like him to get an opportunity to show their talent to the world. Similarly, Cricket West Indies, who face challenges should team up with the rest of the region and tackle the problem as a unified force.
A good start would be reintegrating the ICC Americas team with a more equal composition of players from different regions. 
CPL franchises should also begin to pay greater focus on who they pick in the ICC Americas quota. Do not forget Ali Khan and Hayden Walsh Jr, who were picked in that category, are currently two of the most prolific CPL bowlers. In that context it is bemusing that Leverock, arguably one of the best T20 batsman in associate cricket, continues to be ignored.
Article edited by Machel St Patrick Hewitt
If you'd like to contribute to Caribbean Cricket News do let us know as we are always open to new ideas and suggestions.
Leave a comment below or reply via email with your response to Karthikeya's article. Your interaction is what helps grow the community and we appreciate every response.